Visual masterpieces for your brand
We are your ideal partner
Design meets identity: your logo, your trademark
Every company strives for a visual appearance that reflects its Message clearly communicated. Our custom graphic design solutions are designed to do just that.
We create designs that are not only visually impressive, but also Put your brand in the foreground. Take the opportunity now to strengthen your visual presence and stand out from the competition. With our expertise in graphic design, the path to an outstanding brand presence is just one step away.
Design that catches the eye and stays in the memory
A design that captures the essence of your brand, while also Arouses curiosity and enthusiasm of your target group.
A design that is not only beautiful to look at, but also Evokes emotions and inspires action. In a world where first impressions count, our graphic design service provides just that - an irresistible visual presentation that not only appeals to your customers, but also makes them want to know more.
It's not just about being seen, it's about, to be remembered. Let's ignite this desire in your customers together.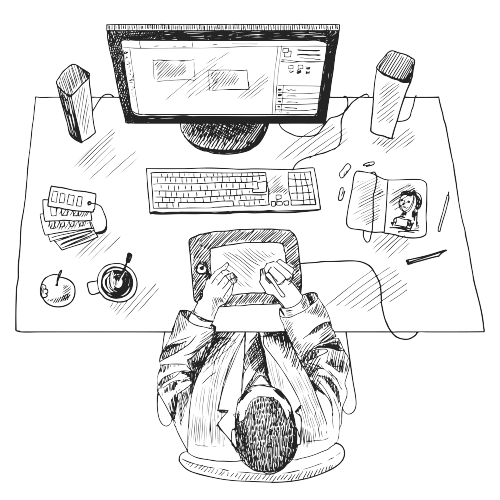 Visual impact in real time
Thanks to professional graphic design, you can immediately see the visual impact of each design. You can see exactly how your message is most strongly conveyed visually.
Target group oriented design
Our graphic design solutions are tailor-made and address exactly your target group. We design visually appealing and targeted.
With our graphic design services, you can adapt the design depending on feedback and trends. This provides flexibility in an ever-changing design world.
Showcase your design wherever your customers are. Whether on websites, in print media or on social networks - our graphic design adapts seamlessly to different platforms.
More than just service - a partnership
In a world full of brands and messages, it's crucial to stand out. A unique logo gives your brand a distinctive identity and ensures that you are remembered.
In a market full of competition, it is crucial to shine with a consistent and concise visual presence. Our corporate design ensures that your brand appears professional and distinctive in every respect.
In the dynamic business world, it is essential to have a brand that is not only recognized, but also felt. Our brand design gives your brand a voice, a face and a soul.
In a digitally dominated world, print retains its special charm and value. Our print design ensures that your messages are as powerful and impressive on paper as they are online.
Your brand deserves the best. Let's talk about it!
Together, we create visual masterpieces that clearly convey your message and inspire your target audience.
Get in touch now and start your journey to distinctive graphic design!